Before we discuss how to monetize a YouTube channel, let's come to know what monetization of YouTube channel is.
What is monetization of a YouTube channel and how to monetize a youtube channel?
What is monetisation of YouTube channel? It means giving authorization of the presence of ads on your YouTube videos. YouTube gives you money for the advertisement and charges fees from the advertisers.
People monetize their channel(s) in a hope for earning money. It is a common practice and if you know how you can earn a lot from this.
Steps to monetize a YouTube channel:-

Step 1: First step would have a YouTube channel of course. If you have a YouTube channel, "great", and if you want to know how to create a YouTube video click here.
Step 2: Go to the YouTube setting in the popup window you would find "Creator Studio", click it.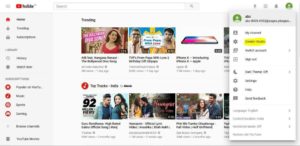 Step 3: In the next window click on "Channel". You will find it on the left side of the page.
Step 4: A window like the one shown below would appear. There you would find a tab which says "Monetization", click the enable button just below it.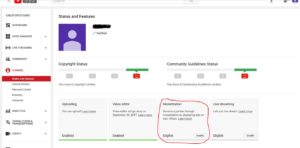 Step 5: Now you will see a window with these four options namely, Read and agree to the YouTube Partner Program terms, Sign up for AdSense, Set monetization preferences, Get reviewed after reaching 10,000 views. In the first option you have to read and accept all the terms and conditions and policies of YouTube. Here, you agree to become a partner with YouTube.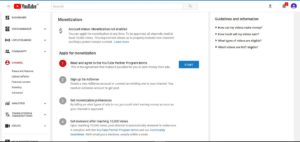 Warning:
Do not do any anything which is against the policies, as your account can get blocked. Especially never click on your own ads and do not promote your channel for clicking on ads only.
Step 6: The next step would be to link your AdSense account to YouTube. If you have an AdSense account sign in to it and if not create one and then link it to YouTube. This is a very important step as all your earning come through this.
Your AdSense account needs to be approved for it to be linked to YouTube. Approval can take a few days.
Step 7: Further, you have to set the preference of monetization. You can select the formats of ads that would appear on your video(s). You can select any or all of the formats of ads.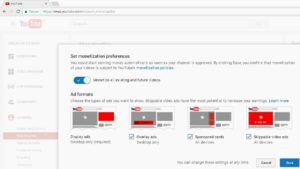 The formats of ads are:
• Display ads- These are those ads which appear to the right of your video and above the video suggestions list. Sometimes, these ads may appear below.
• Overlay Ads– Semi-transparent overlay ads are those ads which appear on the bottom 20% part of your video.
• Skippable Ads– This type of ads are which can be skipped after 5 seconds. They can be inserted in the starting, between and/or after the video.
• Non-skippable video ads and long, non-skippable video ads– The ads which cannot be skipped and you have to watch it before your YouTube video can be viewed are the non-skippable ads. Long ads are the ads which are up to 30 sec long. Non Skippable ads can also be inserted in the starting, between and/or after the video.
• Bumper ads– BUMPER ADS are also non-skippable video ads but are of 6 seconds.
• Sponsored ads– They display content which may be relevant to your video, e.g. as products featured in the video.
Step 8: YouTube has updated some of its policies, one of which is that now you start earning from ads after you get 10,000 views on your channels.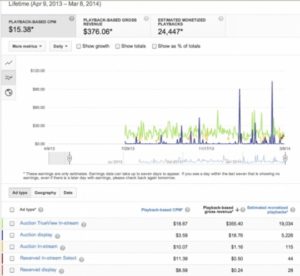 That's all the steps you need to follow to monetize a youtube channel. I hope this article helped you in solving your problems. if you have any problem then you can comment below. I would be glad to help.