What is Powtoon?
Before we talk about How to use PowToon for creating videos, let's get the idea of what Powtoon is?
Powtoon is a software company which gives cloud-based services for creating animated videos. This software is available online for free.
It is an online animation Video maker. You can create HD quality youtube Video online with this.  If you want to make explainer videos or presentations, Powtoon is the best tool available in the market.
Powtoon was founded in 2012 and is headquartered in London. It generates an XML file and it can be played in the Powtoon itself or can be exported. It has a variety of export options.
The software is free to use but also has a pro feature if you buy it. If you are using the free software then the created video will leave a watermark of Powtoon on video.
How to use PowToon to create Videos.
If you want to learn how to use Powtoon, then follow the steps given below:
Open a browser and type

www.powtoon.com.

Go to the Powtoon website and

sign up

 if you are a new user.
If you already have one then simply

log into it

and start creating something interesting.
After logging or signing in, you will be taken to the My Powtoon page and you will see the page shown below.
In that window, Powtoon gives you

two options

, to begin with.
What you find after signing in Powtoon
After Sign into Powtoon Online animation maker online, you will be forwarded to a Dashboard. That dashboard, there are options to create animation videos with all the options as You can see them in the image given below.
Scenes,
Background,
Text,
Characters,
Props,
Shapes,
Sound,
Media and Specials.
Now You Have two options in this online animation video maker tool. Ist is that you can create videos using Templates. second you can create videos From the scratch as described below
Customize a template
In this feature of Powtoon animation, a complete video with a template will be provided to you.
If you are new to the powtoon studio then you must have to practice it a lot. this software has the speci
al feature of customizing a template to create videos in minutes.
You just have to replace the slide data with your required data of video. there are tools visible in the dashboard, just use then and create powerful videos with powtoon.
It is usually used by beginners to learn to design. In this, you can simply customize according to your own requirement.
2. Start from scratch
Start from the scratch as the name suggests you have to des
ign the whole video by yourself.
The best way to create a Powtoon video is through the customization of the ready-made template. So click on that option.
A window with all the available options will open. You have to search for and choose the one you want to design and start editing it.
After that, it will take you to a new window where a number of options will be provided for you to customize your video.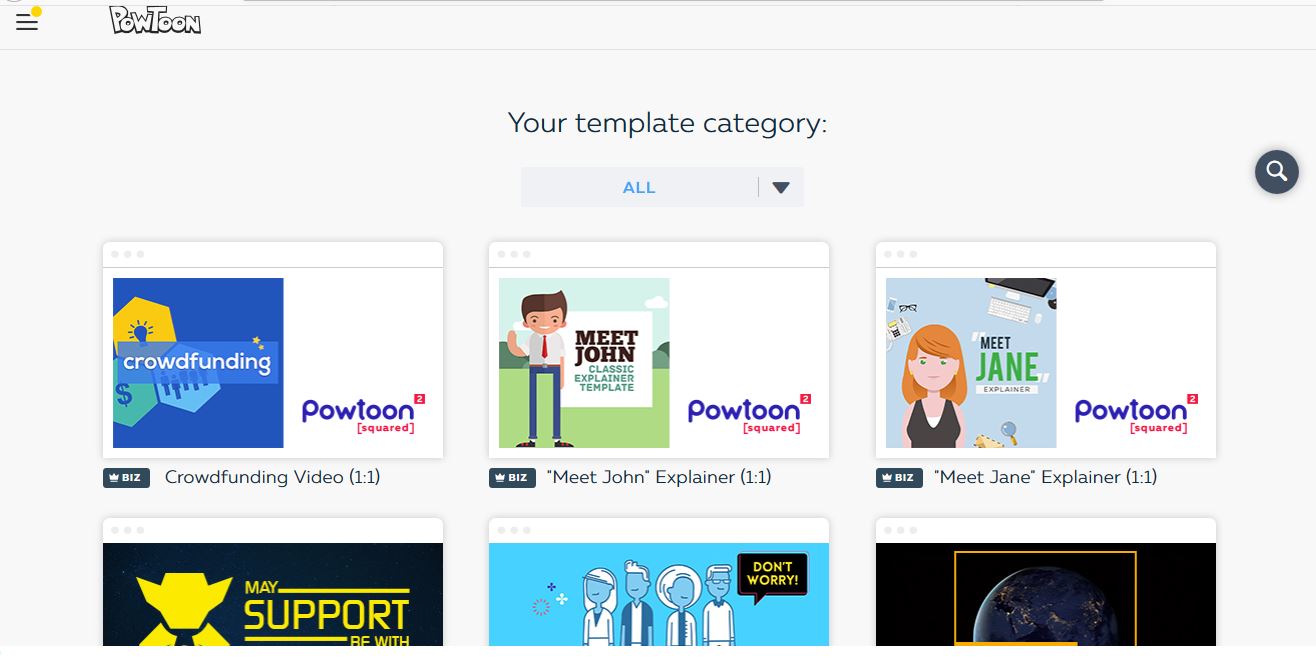 The slides will open and on the right side of the page, you see all the options which will help you to customize it. The available options will be:-
Let's study each of the elements in detail.
Scenes are basically used to design a complete and particular slide. They help to add a complete scene with small images and a background. You will find many ready to use Templates to make videos using these scenes.
You Can choose the scenes according to the requiremnt of your Video.
Whereas a background only puts an image in the background of the slide. You can choose the background according to the presentation you are providing to others.
Text, as the name suggests can be used to add text in the slide.
It can be of three types like adding a title, subtitle or body of the content. The text is available in designed and infographics too through which you can make it look more creative.
A character is an option which lets you add characters in your slide. There are many characters you can choose from like given below.
Some characters are only available to paid users but not a point of worry as in free version too many good characters are available.
In props option, you will find a different kind of tools to place on your slide like bulbs, computers, pens, etc.
They allow you to add different kinds of badges, banners, arrows, and lines, shapes to your slide. They can be used to symbolize a particular thing.
In sounds, you will find the sounds that Powtoon provides you and you can also upload your own sound. Sound plays their role in the back when the video is played.
You can choose a sound according to your presentation. Powtoon has self-created sounds to which you can freely access.
In media, you can add images or videos to your slide. You can select one from the Powtoon or upload your own.
Powtoon provides you free videos, images, and frames which can be added to the slides.
In special you will find some different and creative motion objects. You can simply customize your slides by using them.
These special characters are widely used by people when they communicate with each other informally or on any social media.
Conclusion
I definitely assure that Powtoon is an end to a search of How to make animated Videos on Your computer.
You can create amazing videos by using your creativity. it is also known ass Youtube cartoon video maker  There's so much you can do.
Hope you have now learned how to use Powtoon.
But if still some of your problems are left unsolved then you can comment below and I will surely help you in that.
To know more about making a video, read the following article.