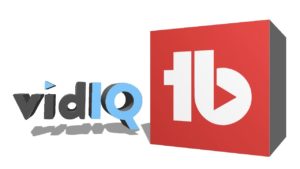 VidIQ vs TubeBuddy is about which is better tool for YouTube promotion. Being a YouTuber and maintaining your YouTube channel, there are many salient points that you have to do to grow your channel.
Growing your channel can be a crucial task if you want to survive on YouTube. The Very important Point for making your Video Viral is the Details of Video. Such as what all types of tags to use, writing descriptions, cards, thumbnail and adding keywords etc.
Above are the biggest problem for some YouTubers and are also very time taking the task.
Overcoming these problems can be very tricky and time-consuming. The best thing you can do to reduce your time consumption is to see the analytics of other videos which are already ranked on top. You can use it in your videos to rank your video easily on YouTube.
"Analytics mean, views per hour, estimated earnings, its SEO, statistics of the channel and so on."
This analytics can be very helpful to know the details about other channels and to use it in your channel. This will give you the clear idea of the interest of Viewers. What are the Keywords which are most in search in YouTube?
To help you to get these analytics and too easy your work there are some software and plugins. I am explaining the Best Two extensions for web Browser.
Ist TubeBuddy, and
2nd VidIQ
These plugins are for web browsers and they help you to get video's analytics, especially for YouTube. When you use these plugins you can spend more quality time in making the videos rather on managing videos. Below, I have explained VidIQ vs TubeBuddy. People are always confused with which of the VidIQ vs TubeBuddy extention to use.
TubeBuddy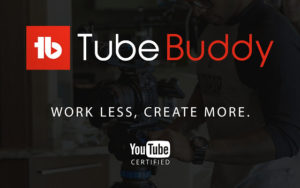 TubeBuddy is a plugin or extension for web browsers. TubeBuddy gives you the analytics or statistic of a YouTube video. It adds a layer of tools right on the YouTube's website and shows the statistics of the video right along the video on YouTube. After you install the plugin you, go to YouTube and you will see all the TubeBuddy's features right inside the site.
It supports all the major web browsers, namely, Firefox, Chrome and Safari. It is a free plugin for all the web browsers but you can upgrade your account to paid license and you will get all the advance features and functions. TubeBuddy claims that most of the people are happy with the free version of it.
After installing the TubeBuddy plugin you will find the main menu in the top right corner of every YouTube's page. It offers quick links to all the most used options on YouTube. On the My Videos page, you will find a drop-down menu beside each video with the options which are already categorized to be easily used.
Must Read for you : How to create Youtube Video
Advantages of TubeBuddy
Tags
Many people who use YouTube do not know how to use tags on YouTube.
Tags are one of the paramount techniques to get your videos ranked on YouTube.
Tags help the users of YouTube find the videos they are looking for. If what they searched, matches your tags, your video will show up.
Same will helps you to select the tags for your videos which will eventually help you to rank your video.
It also gives you the suggestions for tags, the volume of the usage of the tags, its competition, trending tags etc. You can find the suited most tag for your videos.
Do not use a lot of tags on your videos because it will lead to keyword stuffing which will have a negative impact. In a video, use 10 to 20 tags.
Remember that your tags character must be less than 500 and it should match with the content and description of the Video.

Other Advantages
It also shows you the tags used by others on their videos. This is helpful as this will get you the idea on how to use the tags and what tags should be used and what all tags will get you a higher rank.
If you have comments on your video, you can send a private message directly from the comments. Also, you don't need to open their channel to see their views, subscriber etc.
You can set any thumbnail image using TubeBuddy. Usually, YouTube does not give you a lot of options to choose a thumbnail image from. But it will let you select any image from the video as your thumbnail image.
This will allow automatically posts your videos to Facebook. There, you say bye-bye to one of your efforts.
You get a notification when someone mentions your channel. But to avail this benefit, you need to link your channel to TubeBuddy. That is, you have to come in a partnership with your channel.
Through TubeBuddy, you can promote your video in the description of others videos. This is a pretty cool feature and would help you to grow your channel to a great extent.
Also Read  how to Start a Blog
VidIQ
VidIQ is a YouTube optimization tool which basically has the same use as that of TubeBuddy. But evidently, it is different from TubeBuddy as two things can never be exactly the same. VidIQ is certified by YouTube, this builds up the trust in VidIQ.
It helps you figure out as to what is lacking in your channel's marketing. You can then come up with the limitations and make good what is lacking and this will surely grow your channel. Using VidIQ, you will reach a greater part of your targeted audiences.
Being a YouTube publisher, you need to have the basic knowledge of SEO of YouTube. Like what keywords to use, what tags to use, etc. But there is more to it than that. VidIQ will give you better visibility in the SEO of YouTube to help you grow your channel. By using VidIQ, you will get help with the analytics of a YouTube video and it will provide you marketing tools.
You can easily install VidIQ on your web browser. It comes as a plugin or extension to your favorite web browser. After installing it, you will see an IQ icon on the right side of your web browser's toolbar i.e., on the top right corner. VidIQ gives its analytics in on the right side of every video. This makes it easy to operate.
Advantages of VidIQ
Advantages of VidIq Vs Tubebuddy is almost Same. It has mostly the same advantages but still here are few:-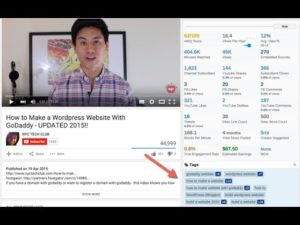 VidIQ reveals analytics or statistics of videos of other people.
It helps you organize your own videos.
Using it you will get keyword score. Like search volume, suggested keywords with their ranks, competition etc. No spending more time on keyword searching.
You can easily view all the comments in your particular video without having to open the video. It views just the comments. VidIQ also sorts the comments for you. For example, if you want to view just the comments which have replies, it will sort it out for you. This feels easy to handle.
It has Boost the Video feature. This feature suggests you on what all things you can do to boost your video(s). For examples, what tags to use to boost the video.
VidIQ vs TubeBuddy – Difference between TubeBuddy and VidIQ
You can get started with VidIQ by logging with any email account. But in TB  you have to allow its partnership with your channel. This allows Tubebuddy to get all your personal information which you normally do not want them to know.
VidIQ shows the referral and embeds sources of your channel or videos. This feature is not available on the second one.
TubeBuddy is less expensive than VidIQ and naturally, Its Your Decision to Buy the best tool for Youtube Videos.
Recommendation
Both the extensions are very good to operate. I personally use VidIQ and so I recommend you to use VidIQ. But in the race between VidIQ vs TubeBuddy I also advise that you should use the one which you feel is handy for you. You can also use both at the same time this will help you cross check the suggestions they give and you can increase your productivity and can grow your channel.
Hope you guys now have the idea of which one of them you should use. If you have any queries with the article VidIQ vs TubeBuddy, please comment below and you will be helped.